"It is our passion to source directly from nature and to provide the most precious raw materials for fragrance creation"
Rose oil, organic (analogcert.) from Afghanistan
We are proud to offer rose oil, organic (analogcert.) from Afghanistan. Out of our partners' hands, Afghan Rose Ltd.
Due to long-lasting conflicts in Afghanistan, it is still difficult to practice sustainable agriculture there. Unfortuantely, it's still more lucrative to plant poppy for opium, instead.
Thus, Welthungerhilfe has initiated a rose oil project in Afghanistan in 2004. The project concept is both simple and brilliant: Afghan farmers switch from poppy cultivation to rose cultivation. Then, the oil extracted from the roses is internationally traded. Thereby, Afghan farmers get alternative sources of income to safeguard their livelihoods.
WALA realized this concept would be both a socially and ecologically sustainable way to secure livelihoods in Afghanistan while promoting sustainable agriculture. Therefore, WALA has been actively supporting the Afghan rose oil project with know-how and expertise since 2006.
Now we are the first offering organic rose oil from this sustainable rose cultivation in Afghanistan.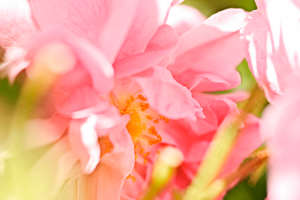 We have worked as an international network to ensure sustainable livelihoods for small farmers and their families in Afghanistan since 2004.
Rose oil from Afghanistan is extraordinary. We are the first offering this rare rose oil.
Become part of our network. Let's grow together.
Copyright: WALA Heilmittel GmbH, naturamus GmbH
Rose oil, organic (analogcert.) from Afghanistan
A genuine rarity in order to ensure sustainable livelihoods in Afghanistan
Marketing a rarity while safeguarding sustainable livelihoods
We work hand in hand with our Afghan partners to ensure premium quality-rose oil for the European market. Likewise, we take the law to our Afghan partners' hands.
Therefore, we contribute to sustainable growing livelihoods in Afghanistan. But the sustainability of our partners' livelihoods dependens on our product's value.
Therefore, our partners and us focus on high rose oil production standards in Afghanistan and Germany.
Therefore, we can provide a rare product in premium quality: organic Afghan rose oil from organic smallholder rose cultivation.
Why sourcing rose oil from us
organic agriculture in Afghanistan
safeguarding sustainable livelihoods in a region of conflict
hand-in-hand approach with Mr. Momand
realising perspectives instead of looking back
Check out our organic oils